Hey guys, I'm going to do a few more posts on Fall makeup trends as my next few posts. Once again Rite Aid had a 40% off products a few weeks ago.
I always check
sundaysaver.com
before I head to the drugstores to know what's on sale that week. I had a lot of things I wanted from the company so I decided to try new things. These two things are from their Fall 2010 collection and are limited edition.
Maybelline Color Sensational Lipstick in Berry Beautiful (941)


What I really like about this lipstick is that is is creamy and works as good as the other Color Sensational lipsticks I already own. The color is a dark fuchsia with plum/blue undertones and no shimmer or shine. Its a unique shade and glad I got this. Plus, I love how it smells.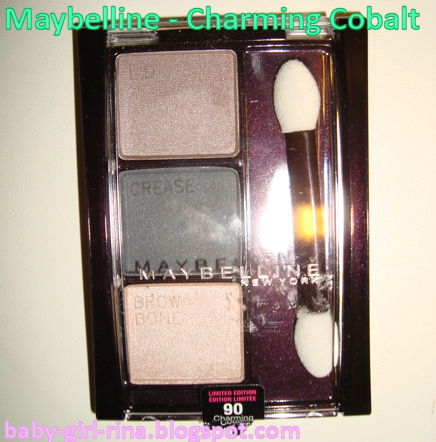 Maybelline LE Eyeshadow Palette in Charming Cobalt (90)
This was my first time trying Maybelline Eyeshadow after they changed the formula so I didn't know what to expect. Usually their eyeshadows are a hit or miss and I would say this one is in the middle. I wanted some neutral everyday colors so I chose this.
I really was looking forward mostly to the browbone color and luckily that one is super awesome.
The lid color is a shiny taupe brown with silver glitters. This color is very good and long lasting. It's very similar to MAC - Banshee but not as sparkly.
The crease color is a dull teal that has a matte finish. The color is decently pigmented and builds up, which is something I prefer rather than taking too much and messing up my crease. The color looks a bit green based on my because of my strong yellow undertones.
The browbone is my fave and really good. It's a shiny metallic sand color. I use this all over my lid and really like it. Sort of similar to MAC - Femme Fi in color.
----------------------------------------------------------------------
Fashion Night Out NYC
I also think Maybelline is doing a Fashion Night Out Event tomorrow.
Info via :http://www.fashionsnightout.com/night-out/
Who: Maybelline New York
Where: Meatpacking District 9th Ave & W 13th St New York NY 10014
What: Maybelline will be set up in the Meatpacking District from 6PM-11PM. The first 50 consumers to arrive will receive a limited edition makeup bag created especially for Maybelline by fashion designer Michael Angel. Top Maybelline artists will provide makeovers. Consumers who receive makeovers will be invited to strut their stuff down a mini-catwalk for a chance to win a year's supply of Maybelline makeup. Spokesmodels Emily DiDonato, Jessica White & Lisalla Montenegro will be on hand to judge this "Sensational Strut." Spokesmodel Kemp Muhl & Sean Lennon will perform a DJ set from 8PM-10PM.

----------------------------------------------------------------------
I might go to this but most probably Forever21 first. So many events tomorrow that I don't know which one to start with. :)

Thanks for reading :)