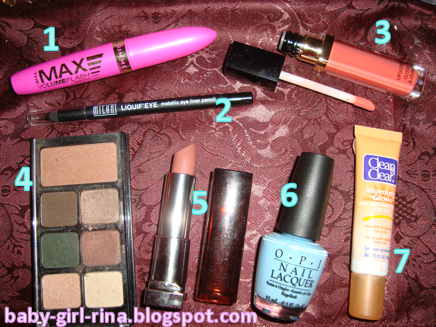 Hey all! Here's some products I used a lot, bought, and recommend for this past month May!
1. Rimmel London The MAX Volume Flash Mascara
I really like this mascara, it makes my lashes look a lot fuller and darker. It really lengthens my lashes and makes them look really dramatic instantly.
2. Milani Liquif'Eye Metallic Eye Liner Pencil in Black
I really like the pencil. It makes my eyes look very black and dramatic. I've been using this about everyday and I love how it glides on so easily. I did a review of this before. Click
here
to read.
3. Revlon Super Lustrous Lipgloss Coral Reef
I heard about these on a few blogs and saw them in CVS and decided to try them out. I really love this color since I love corals and because it's very glossy and pigmented. Once again I'm sad that this is limited edition :(
4. Elizabeth Arden Eyeshadow, Blush, and Brush Palette
I got this set as a gift a few years ago. I recently found it in my make-up stash and have been using it again. The colors are great and this palette is great for when I'm in a hurry since all the colors are very wearable. I've been using this a lot since I had my finals so I didn't have time to choose colors. It''s nice pigmented and I really like it since it has a nice blush too.
5. Maybelline Color Sensational Lipstick in Totally Toffee
Oh my gosh I love this color to death! This is like a nice pink/brown nude color with is almost the color of my lips but still look a bit nude. I love it soo much! Definitely going to be one of my all time favorites! It reminds me a lot of MAC Jubillee. I really really recommend this color if you like MAC Jubilee, Freckletone, or Warm Me Up.
6. OPI What's With the Cattitude from the Shrek Collection
I love this color. I don't see many light baby blue nail polishes so I decided to get this one because it really caught my eye. I love it and another thing I like about it is that it's opaque and applies thinly with the brush! I also love how it's in the Shrek Collection. The sad part about it is that it's limited edition!
7. Clean & Clear Morning Glow Eye Brightening Cream
I have this using this as a primer for many years now. It's still hasn't run out yet! I like to put this around my under eye area before I add concealer. I use it to hydrate that area and to clean up any eyeshadow fall out.