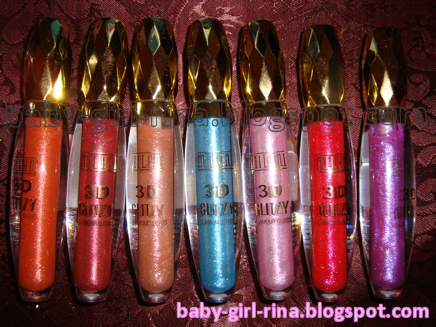 Hey guys! I wanted to share these awesome glosses that were the first ones who made me start my ongoing drugstore hauls. These are the Milani 3D Glitzy Glamour Gloss and they cost about $6.99 each. I bought them without knowing about Milani sales so I bought them for regular price. I couldn't find all the colors at my local CVS so I had to order the others from Sears.com. So Here is my mini review of them.
Stylish
- sheer orange with gold glitters, great over any color on on it's own.
Leading Lady
- sheer maroon with gold/red glitters, good for a red/brown lip.
Designer Label
- sheer beige with pink/orange glitters, great over a nude lip.
Movie Star
- sheer blue with blue/pink glitters, very unique and great over pink/purple lips.
Starshine
- sheer baby pink with purple glitters, very nice.
In Vogue
- pigmented bright red with gold glitters, very pigmented and can be worn alone.
Fashion Diva
- fuchsia with blue/purple glitters, beautiful color!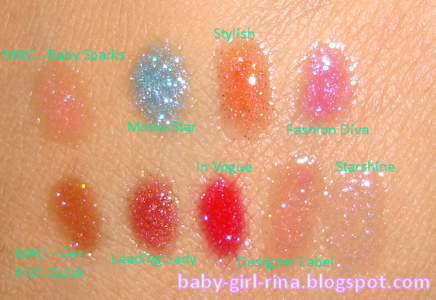 I find these very comparable to the MAC Dazzleglasses by the way the look. The texture is very different though.
Recently I did check out the MAC Superglass at the store and I find the texture of those to be more similar but to have more sparkle. I didn't buy any because I thought they were too expensive and they are pretty similar to Dazzleglasses and these Glitzy Glamour Glosses.

Have you guys checked out these products yet?