Hey guys! I've been gone for a while since my computer has a virus! Anyways, I wanted to share these eyeshadow I have been obsessing over! I've been testing them out for a while so I am quite familiar with their formula. I first noticed them when I was on my hunt in CVS looking for the Milani's new one coat glitter nailpolishes. On the display next to them I noticed these baked eyeshadows.
After trying four of these for the first time I was in LOVE and purchased many more
.
For sure I knew I loved these so much I purchased 6 more of them last week once again during the BOGO 50% off sale in CVS.
So here's a compilation of all my hauls!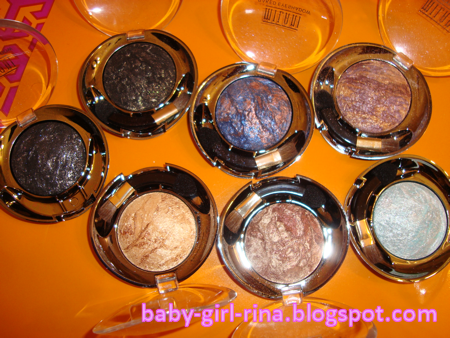 Marble Eyeshadows
Mingling
– light frosty baby blue with white and silver glitters swirled
Intermix
- brown with white and chocolate glitters swirled
Drenched in Gold
- metallic yellow gold with cream and copper swirled
Together 4Ever
– indigo blue with bronze and blue glitters swirled
Mélange
– charcoal with white and gold glitters swirled
Medley
– charcoal with silver glitters swirled
Fusion
– purple with gold and copper glitter swirled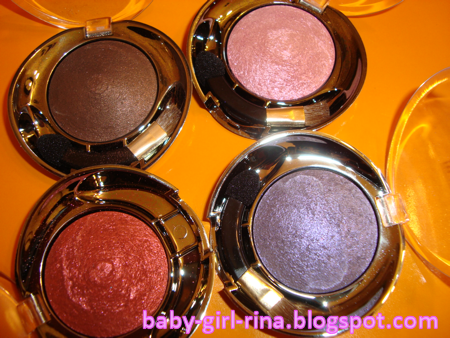 Metallic
Eyeshadows
I Heart You
- burnt red/orange with red sheen
Rich Java
- brown with red undertones, has gold shimmers
Purrr-fect Purple
- lilac lavender with blue undertone with purple sheen
Pink Twice
- dusty baby pink with warm pink glitters and sheen
Swatches
Milani Baked Marble and Metallic Eyeshadows Swatches


Row 1
Medley
,
Mélange
,
Drenched in Gold

Row 2
Together 4Ever,
Fusion
,
Mingling

Row 3
Intermix,
I Heart You,
Pink Twice

Row 4
Purrr-fect Purple
,
Rich Java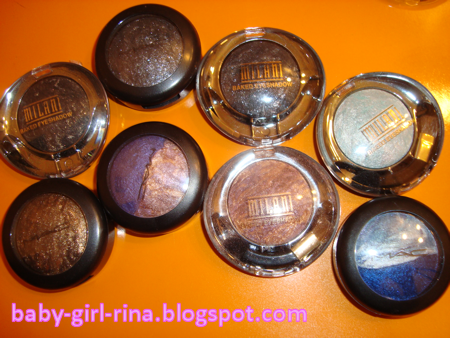 These remind me a bit of MAC Mineralized eyeshadows but I wouldn't say they are the exact dupe since the colors are different however the formulas are the same. If you like MAC Mineralized eyeshadows then you'll definetly love these! Plus I love how they were half the price of MAC eyeshadows and I purchased more of them during the weekly drugstore sale!
The method of wearing any baked eyeshadows can be tricky at first, but some ways I applied them were:
- As an all over color with Urban Decay Primer Potion underneath, NYX Jumbo Eye Pencil in Milk, or MAC Greasepaint Sticks

- Apply them wet by either wetting the brush or taking some product on a brush and applying Fix+

-In the center of my eyes on my normal eyeshadow for a three dimensional look
I love these so much I will definitely purchase more colors soon! They are limited edition in CVS but I saw that they are now available on Milani's website, Cherryculture.com and Walgreen stores.
Thanks for reading!